Happy Tails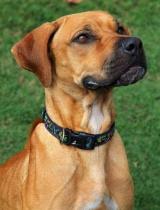 Clementine (Tully)
"Our much-beloved rescue dog passed away in December, and we missed having a dog in our lives.
We had only recently made a decision to have another companion when we saw an advert for her on the Rhodesian Ridgeback Queensland website and on facebook.
The staff at the Adoption Centre were prompt in reply, extremely helpful over the phone and gave a good description. Add that to her background story, her photos on social media, and her gentle and calm nature and we knew she was the dog for us.
It wasn't long before we were on a plane to Hervey Bay from South Australia to meet her.
She wasn't aggressive or destructive, she was calm, and we fell in love with her.
The next day, we were all on our way back home in South Australia."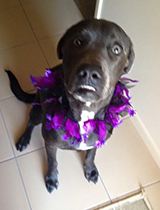 Bluebelle
"We adopted Bluebelle about 2 months ago (July 2016). She's a 10-month-old Labrador X Mastiff. When I first met Bluebelle she was very shy and nervous to leave her cage as she had only been surrendered that day.
About a week later we adopted her. We've never owned a Labrador but now know why everyone kept laughing and saying "have fun". She is one crazy puppy and is always so full of energy.
Whether she's cuddling up next to you, chasing the sprinkler or begging for food she is just such a happy-go-lucky pup. She has the cutest under-bite so she always has this sad look on her face and sometimes her lip gets stuck and she looks like how she does in this photo.
Everyone who meets her says she's absolutely stunning as her colouring is a silvery blue. I just love her to bits and she's already my best friend."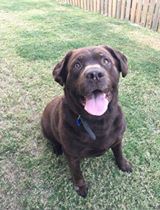 Charlie
"This is Charlie the chocolate lab. We adopted him in July this year (2016) after his owner passed away.
When we adopted him he was very overweight but plenty of ball chasing and walks has means he has lost it now and looks more handsome than ever.
He is so loyal and is always either right behind us when we are in the yard or looking in at us when we are inside. He loves chasing balls, cuddles, belly rubs and chasing the cows at the back fence.
Everybody loves him and he is great with my step-son. He is absolutely perfect and we wouldn't change him for the world."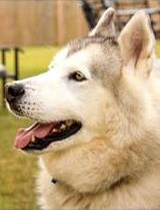 Loving his new cuddles
"Beautiful boy Charlie was purchased at the Adoption Centre in August and has settled well into his new home.
He was immediately decked out with all the latest gear for walks and has his own little 'pad' in the backyard.
He is being spoilt with loads of cuddles, walks and baths.
Charlie particularly loves the new clam shell full of water to play in.
We are so happy for you Charlie!"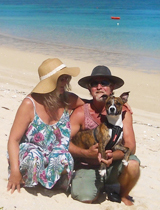 From pound to paradise
Missy is a female Staffy Cross who was picked up as a stray in February this year.
She was never claimed and was released from the pound to the Adoption Centre that month.
Holiday-makers from Lord Howe Island, Robert and Yvette, fell in love with Missy while on holidays in March and adopted her.
The regulations and requirements for owning a dog on the Island are very strict but Robert and Yvette met all the necessary conditions to make sure Missy could join them on their return trip home.
Missy is now one of the luckiest dogs enjoying her forever home in paradise.
She has also been given a new name by her new family - she is now called Girl.