Hervey Bay pop-up library to remain for longer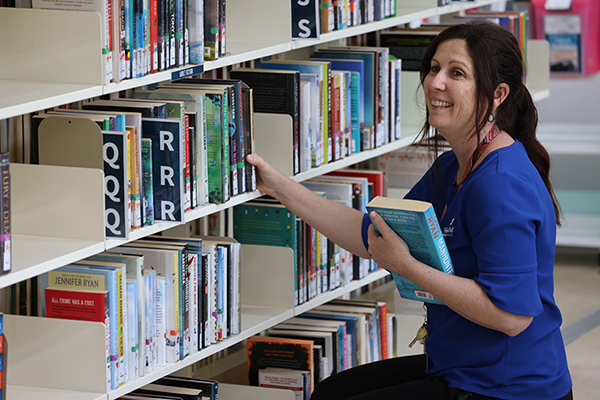 The Hervey Bay pop-up library will continue to operate at the Hervey Bay Regional Gallery until 20 January 2024 while work to replace the library building's roof and air conditioning is completed.
Fraser Coast Regional Councillor David Lewis said maintenance inspections had identified the library building's roof had come to the end of its working life and needed to be replaced.
"While work is underway on the library building, Council has a temporary portable facility operating alongside the Hervey Bay Regional Gallery to ensure we can provide services to the community, albeit in a limited capacity," he said. "A small borrowing collection is available with customers encouraged to reserve items, while public computers, printing and Wi-Fi is available in the art gallery café space, and library programs continue to be provided at alternative venues."
Cr Lewis said Council was taking the opportunity to do some additional maintenance and refurbishment of the library building, such as external and internal painting, while it was closed.
"The additional maintenance being undertaken means Hervey Bay Library services will continue from the pop-up facility for longer than first envisaged," he said.
"It is now anticipated that the pop-up facility will operate until Saturday 20 January 2024, with the refurbished library building to reopen on Monday 5 February 2024."
Cr Lewis said the Hervey Bay Library was one of the community's most-loved facilities with up to 1500 people visiting daily during busy periods to borrow books, DVDs and toys, access digital services and attend events.
"Across the Fraser Coast, more than 45,000 people are library members – more than a third of our population," he said. "Council acknowledges that the existing Hervey Bay Library does not have enough space to meet the needs of our growing population, which is why we will be building a new library by mid-2026 under the Hinkler Regional Deal partnership with the Australian Government.
"The process to design and build the new modern library in the Hervey Bay city centre is underway. We look forward to engaging with the community about the exciting new programs they would like to see as the new library develops in the next couple of years.
"In the meantime, we need to replace the roof and maintain the current building to keep our staff and citizens safe while continuing to provide services to the community. It's important that we protect and maintain this valuable asset for future community use.
"We are very grateful to the Queensland Government for providing $1.5 million through the Works for Queensland program to help us with this project. "Council is committed to providing connected, inclusive communities and spaces, as well as effectively managing and maintaining our assets, and that's what this project is all about.
"Council thanks residents and staff for their patience and understanding while this important work is underway."