Queensland State Government waste levy - Sort your load
The Queensland State Government is introducing a waste levy on 1 July 2019. Find out more Waste disposal levy
Fraser Coast Waste encourages residents to SORT their load to help reduce waste to landfill.
Before heading to the tip sort your load into reusable items, recyclables, green waste and general household waste.
For more information refer to the waste levy enquiries (PDF)
How much of your next load could be reused or recycled?
For further information on recyclables and general waste see Household Recycling fact sheet (PDF).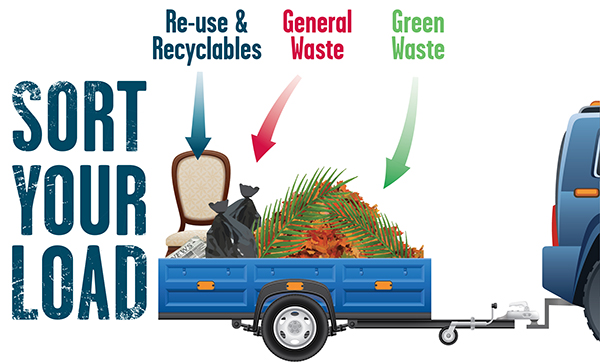 Re-use and recyclables
batteries (drop to Maryborough and Hervey Bay waste facilities only);
glass or plastic bottles (no lids);
building materials ie. bathtubs, sinks, bricks, pavers and tiles;
clean newspaper, paper, magazines and brochures, cardboard boxes (flattened and free of polystyrene and plastics);
clothing in good condition ie.no stains or tears;
crockery kitchen goods and bric a brac;
children's toys and bicycles;
fish tanks;
furniture of good quality and condition;
gardening equipment ie. lawnmower;
gas bottles;
luggage;
sporting equipment;
steel and aluminium cans and empty aerosols;
waste oil up to 20L (includes motor and cooking oil only - accepted at the Granville, Maryborough and Tinana sites); or
white and electrical goods in good condition ie. fridges, televisions, computers and accessories, laptops, iPads/tablets and mobile phones.
Green waste
Up to 4.3 or 1 tonne can be disposed of at Council tips and transfer stations free of charge. Branches, limbs and trunks are to be no more than 1200mm in length and 400mm in diameter. Anything greater than this size may incur a disposal charge.
Please note Aramara and Yengarie Transfer stations don't accept green waste. Loyalty cards are accepted at most sites, customers to present at gate.
General waste
aluminium trays ie. pie trays;
CDs, DVDs;
clothing and fabric;
bottle and jar lids;
broken ceramics, crockery and glasses;
food scraps;
light globes, broken mirrors and window glass;
nappies, wipes;
plastic bags, packets and film;
styrofoam and polystyrene;
takeaway coffee cups and lids; or
wax-coated cartons ie. milk cartons.
Load restraints
Under the Queensland load restraint requirements, any load carried on or in your vehicle or trailer must be properly restrained. To view the requirements, visit the Department of Transport and Main Roads website.