Youth
Youth week 2019 activities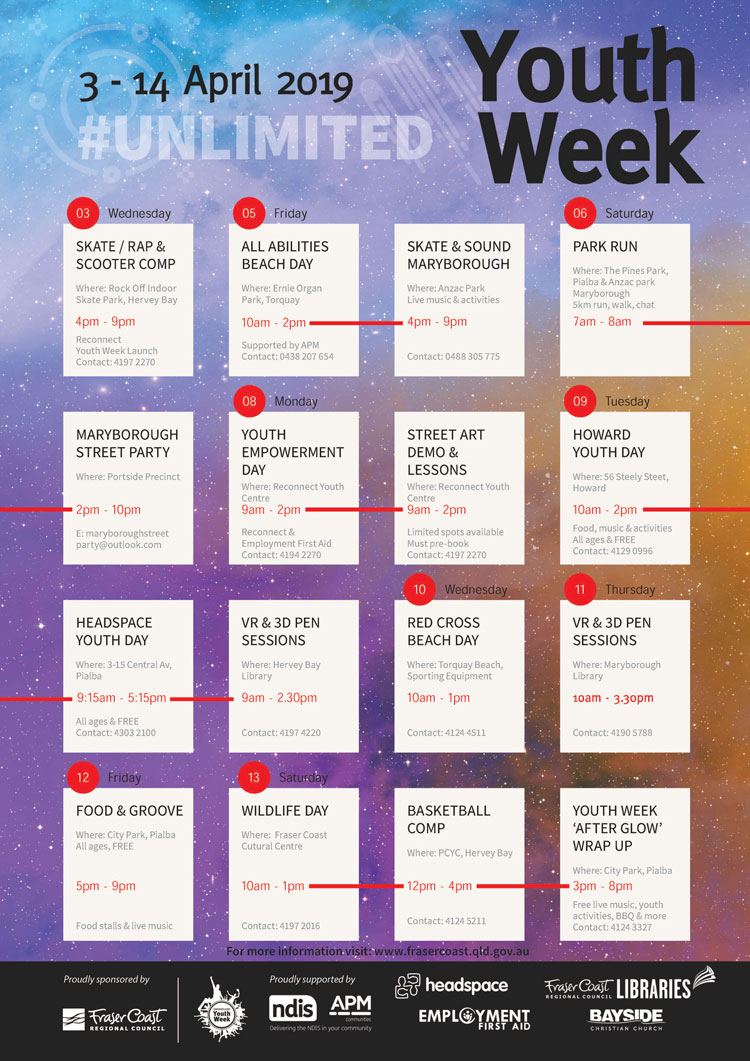 Fraser Coast Regional Council recognises that young people make invaluable contributions to our region and play a vital role to community life.
Census data from 2011 indicates that there were approximately 16,500 young people between the ages of 12 and 25 living in the Fraser Coast region, representing over 17 per cent of the total population.
To support our young people Council is committed to working in partnership with youth and community organisations to provide strategic advice and capacity building that encourages young people's participation in the community.
Young people make significant contributions to our region through numerous areas, from performing arts, culture, sport, business and science to community and civic duties.
Council actively supports youth involvement in civic life through the Fraser Coast Youth Ambassadors and also supports the recognition of youth achievements through the Youth Mayoral Congratulatory Letter.
Initiatives
The Youth and Community Development Team also facilitated the following initiatives
Youth and Community Development Grants
Little Lime Book publication
Fraser Coast Ambassadors
Fraser Coast Mayoral Youth Brunch
Fraser Coast Youth Leadership Forum
Fraser Coast School Leavers Manual
Youth Strategy 2015 - 2019 coordination
Seniors Mayoral Morning Tea facilitation
Annual Disability Achievements Awards
Fraser Coast Community Services Expo
Fraser Coast Volunteers Expo
NAIDCOC flag-raising events
Administration of the Youth Mayoral Congratulatory Letter
Administration of the Volunteer Achievement Letter
The youth and community development team makes a significant contribution to the resilience, wellbeing and spirit of communities on the Fraser Coast by working with community leaders to strategically plan, develop and strengthen community partnerships and investment.
Contact us
For further information, please contact Youth and Community Development Officer on phone 1300 79 49 29.

The Fraser Coast Regional Council Youth and Community Development team acknowledge Aboriginal and Torres Strait Islander peoples as the original inhabitants of Australia.
We pay our respect to the Elders of this land; past, present and future.