Urraween Reservoir upgrade wins public works excellence award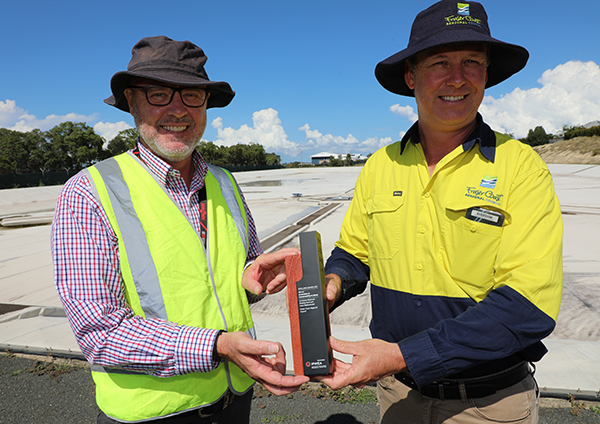 Award winning …. Deputy Mayor Darren Everard congratulates project leader Wide Bay Water and Waste Services Infrastructure Delivery Engineer Craig Rieck on the work to reline the Urraween Reservoir.
The upgrade of the Urraween Reservoir with its floating roof and liner replacement was named one of the state's best public works projects by the sector's peak body, the Institute of Public Works Engineering Australasia Queensland (IPWEAQ), at their recent annual conference in Cairns.
The Fraser Coast Regional Council received the Innovation and Sustainability in Water award for the Urraween Reservoir - Floating Roof and Liner Replacement project.
IPWEAQ CEO Leigh Cunningham said the annual excellence awards recognised the success of infrastructure and engineering projects and the people who deliver them across the state.
"The project highlights how public works engineering is improving our communities and growing our economies through every aspect of our lives, from transportation and water supply to road safety and recycling, to recreation at football stadiums, parks and walking trails."
The Urraween Reservoir - Floating Roof and Liner involved a year of planning, trials, and teamwork to ensure water security when the largest water reservoir in the network was taken offline for three months to reline.
The project team showed significant innovation in the configuration, testing and ongoing operation of a system to bypass the reservoir for an extended time with no noticeable change in service.
The award was due recognition of the skills and dedication of the Wide Bay Water team, Deputy Mayor Darren Everard said.
The replacement of the floating roof and liner was part of a multi-million project undertaken by Wide Bay Water involving the Urraween reservoirs to improve the efficiency and performance of the supply of water supply to Hervey Bay.
"Through the upgrade of pumps and pipework, Wide Bay Water has catered for population growth and saved money by cutting electricity costs," he said.
"The new booster pumps will enable us to use available pressure in the existing trunk water supply system from the Takura Reservoir to transfer water directly to the Ghost Hill Reservoirs, thereby cutting power costs.
"There will also be a bypass to allow flow from Takura Reservoir to Ghost Hill Reservoir by gravity during low demand periods."
In the 2021/22 budget, Council allocated $37.1 million for water, waste and sewerage capital works projects.
The award was among 30 projects and people to win awards from across the state at the Institute of Public Works Engineering Australasia Queensland annual conference and awards in front of 450 delegates at the Cairns Convention Centre.
For further information visit ipweaq.com