SplashSide
Anzac Park's water play and all abilities playground
Maryborough's new SplashSide water play park is situated in Anzac Park, joining the all abilities playground to ensure a great day out for the whole family.
This new facility opened 12 June 2021 and is a joint initiative of Fraser Coast Regional Council and the Queensland Government, through the COVID Works for Queensland program with design focused on inclusive all abilities entertainment.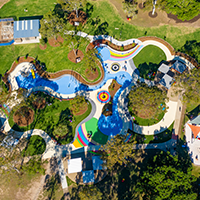 SplashSide operates within Anzac park, 7 days a week during the below times:
8.30am to 5.00pm - 1st May to 31 August (Winter)
8.00am to 7.00pm - 1 September to 30 April (Summer)
Closed Thursday mornings (until 1pm) for routine maintenance and cleaning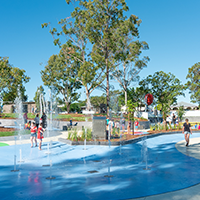 LOCATION: Anzac Park, Maryborough - Cnr of Alice and Cheapside Streets Maryborough
SplashSide parking is also available on Queens Street (accessed from Cheapside Street and Lions Drive).
SplashSide fun!
Interactive water features

Spoon full of sugar discharge bucket
Crystal fountains
Stream Jets
Cosmic cannons
Sugar Cane water poles
Water fall

All inclusive play equipment (all abilities and all ages)

Accessible carousel
Hammock
Sensory Wall
In ground trampoline
Roller Slide

Park facilities

Seating
Picnic shelters
BBQs
All abilities toilets
Various restrooms
Fitness stations
Multiple playground equipment
Liberty Swing
Skate Park
Lagoon viewing deck
Drinking fountains
No life guard on duty
Children must be supervised at all times
No running within the wet play area
Children who are not toilet trained must wear aqua nappies
Pets are not allowed (excludes assistance animals)
SplashSide and the entire Park is alcohol and smoke free
SplashSide does not operate with drinking water – Please use drinking fountains
No food, drinks or glass in wet play area
No skateboards, scooters, bikes or rollerblades within the SplashSide area
Keep jets and drain pits clear (never sits on jets)
This area is being monitored by CCTV
Hire bookings are not available for SplashSide
SplashSide may close for maintenance or due to extreme weather

For the continued use and safety for all to enjoy SplashSide please report any required maintenance, vandalism or damage to us by calling 1300 79 49 29.

The facility may be closed without warning for maintenance purposes.