Wetside Water Park
Race the Reds
Can you beat the Queensland Reds on the brand-new Aqua Ninja course at WetSide Water Park?
You'll have to be fast to beat Ethan Dobbins, finishing in a super swift 11 seconds!
The players visited WetSide last month and recorded some lightning-fast times on the Aqua Ninja. Click here to view the Queensland Reds Race Results and check out the photo gallery below!
The Aqua Ninja obstacle course is open Saturday and Sunday, from 10am to 1pm. Plus 7 days a week during Queensland school holidays.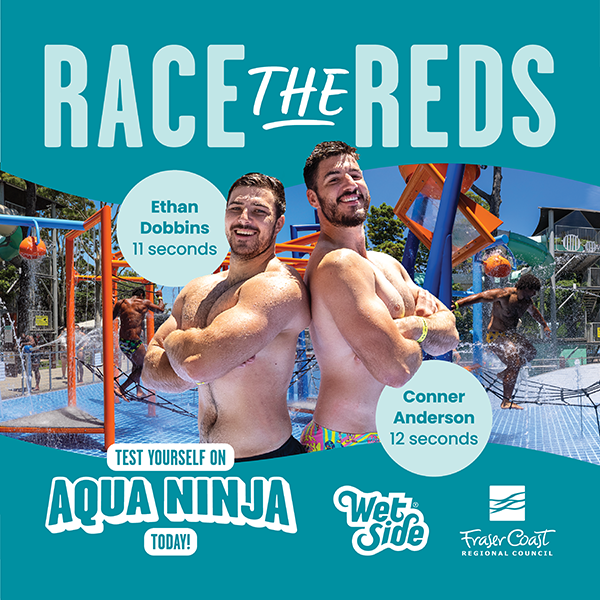 Made up of nine linked challenges which test strength, agility, co-ordination, and stamina. Water jets, cannons and dumpers are activated as participants move through the course.
To boost the stakes, participants are timed, and spectators can also activate water jets, sprays and canons to hose down participants.
It is the first of its kind in Australia and made possible with Federal Government funding.
Tickets for the Aqua Ninja can be purchased from the WetSide kiosk. Users must meet both minimum requirements: 8 years old and 140cm tall (see more below).
Wetside Water Park
WetSide Water Park is located on the foreshore at the junction of Main Street and the Esplanade, Hervey Bay and is a fun, family friendly public asset designed with something for everyone.
The park includes:
Waterslides
Aqua Ninja adventure course
Water play area
TotSide for under 5s play
Fountain Light Show
Coffee shop, fish and chip shop and restaurant adjacent
Entry into WetSide is free however there is a cost for the Waterslides and Aqua Ninja.
During Queensland State school holidays WetSide is open 7 days from 10am to 5pm (excluding June/July/Aug). Please see below operating hours outside of school holidays.
WetSide may close for reasons including maintenance or extreme weather.
Queensland State school holiday dates: view QLD state school calendar here
Activity
Opening hours

WetSide Water Park

Wednesday to Sunday from 10am to 5pm (during Queensland State school terms)
ANZAC Day 1.30pm to 5pm
Closed Christmas Day and annual maintenance from May to early September.
7 days a week from 10am to 5pm in Queensland State school holidays

2x Large Water Slides

Saturday and Sunday 1.30pm to 5pm (during Queensland State school terms)
7 days a week from 10am to 5pm (during Queensland State school holidays)
ANZAC Day 1.30pm to 5pm
Closed Christmas Day

Aqua Ninja

Saturday and Sunday 10am to 1pm (during Queensland State school terms)
7 days a week from 10am to 5pm (during Queensland State school holidays)
ANZAC Day 1.30pm to 5pm
Closed Christmas Day

Fountain Light Show

7pm Saturday nights throughout the season
Remember the following:

Children under twelve (12) years of age must be accompanied and supervised by a responsible person over the age of 16 years of age.
Glass bottles or containers are prohibited.
Appropriate bathing costumes must be worn in the facility (babies must wear waterproof nappies).
All nappy changing must take place in the change facilities provided.
No animals are allowed into the Centre (not including nature wildlife in the area)
Use of objects such as inflatable toys, balls etc. is not permitted.
No alcohol is permitted on the premises
No food or drink is permitted in water play areas
No smoking
No climbing of whale feature or fencing.
No running.
No Bikes, skates, scooters, rollerblades etc.
No swearing, rough play or bullying.
No loitering in change rooms.
Keep jets clear (never sit on jets).
Obey all signage and Staff member instructions at all times.
Obey the law.
Unacceptable behaviour may result in slide tickets being revoked and non refundable.

It is not to be used by those who appear to be under the influence of drugs or alcohol
Users must be 1.2m in height with no exception.
One person only on each slide at any time.
Exit the slide runout as soon as possible.
Swimming attire is required. No heavy clothing or denim allowed.
No cameras, plaster casts, prosthetic limbs, googles/glasses or jewellery which may injure persons/damage the slide are allowed.
No running, standing, kneeling, rotating, tumbling or stopping during the slide.
Keep hands inside the slide during the ride.
Slide feet first at all times.
It is to be advised that the slides are not suitable for pregnant women, and people with limiting conditions including neck, back, joint and heart problems.
Patrons use the slides at their own risk

Not to be used by those who appear to be under the influence of drugs or alcohol
ALL users' first run of the day is at Rookie level – no exceptions
Users must meet both minimum requirements:

Rookie: 8 years old AND 140cm tall
Trooper: 13 years old AND 150cm tall
Commando: 16 years old AND 165cm tall

E.g. a 14 year old who is 145cm tall can only run as a Rookie

Swimming attire is required, clothing is ok to wear, baggy clothing not permitted.
Footwear optional (running or water shoes only)
No cameras, plaster casts, prosthetic limbs, goggles/glasses or jewellery which may injure persons/damage the adventure course are allowed.
It is to be advised that Aqua Ninja is not suitable for pregnant women, and people with limiting conditions including neck, back, joint and heart problems.
Patrons use Aqua Ninja at their own risk
Parents/guardians must purchase ticket for children under 16