Australia Day 2021
Community Events
Hosted by various community organisations.
Awards
Celebrating local groups and citizens
The annual Australia Day Awards were presented to local groups and citizens who have made outstanding contributions to the Fraser Coast Community. These awards offer an opportunity to come together and honour the achievements of community members and celebrate our community's diversity.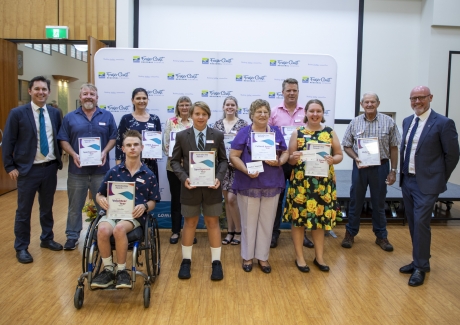 Awards Ceremony
A Citizenship Ceremony followed by the Australia Day Awards was held at the Brolga Theatre, Maryborough on Tuesday 26 January 2021 for new citizens and award recipients.

2021 Awards Recipients
Citizen of the Year - Gail Gauld
Young Citizen of the Year - Iluka Clifton
Sportsperson of the Year - Michael Oxley
Young Sportsperson of the Year - Owen Taylor
Cultural Award of the Year - Heather Jeppesen
Young Cultural Award of the Year - Xanthe O'Connor
STEM Award of the Year (Science, Technology, Engineering, and Maths) - Pieta Bates
Young STEM Award of the Year (Science, Technology, Engineering, and Maths) - Ella Tracey
Community Project or Event of the Year - Bin Isolation Outing
Community Group or Organisation of the Year - Fraser Coast Mates
Volunteer of the Year - Scott Bell
Young Volunteer of the Year - Henry Rider