Supporting our Seniors
Seniors Month - October 2021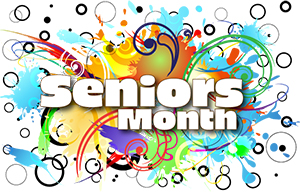 Please be advised that due to current weather conditions and predictions The Mayor's Picnic in The Park planned to be held at City Park Pialba Tuesday 19 October is being postponed. A new date will be confirmed asap.
View October's Seniors Month activites below. Programs will be available from Council's Customer Service Centres, libraries and local seniors services.
Download Program Download Calendar of Events
Date
Activity
Time
Venue
Cost

2 & 3 Oct

Craft Festival
9am - 3pm
Kondari Resort,
Elizabeth St, Urangan
FREE

6 - 8 Oct

Over 50's Lifestyle Expo - 3 days, 28 different exhibitors each day, door to door transport available.
9am - 5pm
Stockland Shopping Centre
FREE

7 Oct

Culture Caf -
Showcasing the Singapore culture.

10am - 12pm

Hervey Bay Neighbourhood Centre
$6 Tickets available here

10 Oct

Cool Country Concert - Enjoy a variety of entertainers, food/drinks and raffles.

10am – 12.30pm

Hervey Bay Senior Citizens Club, 28 Totness Street, Torquay
$5 Tickets available at door

11 Oct

Hervey Bay Sixty & Better - Come and Try Session vouchers to be used from October 11.

8am - 4pm

459 Boat Harbour Drive, Torquay
FREE

12 Oct

Community singing - Enjoy the fun of singing without joining a group.
10am - 12pm
Tavistock Court Retirement Village Hall - Torbay
FREE Bookings
4194 2441

13 Oct

Reflections on the Bay - Bowls, BBQ, & Presentation on OzCare Services.
11am - 2pm
73 Richard Charles Dr, Kawungan
FREE Bookings 1800 692 273
17 Oct

Makin' Whoopee Concert

3.30pm

Hervey Bay RSL Club

$20 a ticket Bookings 0407022696


19 Oct

Picnic in the Park with the Mayor - Sausage sizzle, entertainment and a chance to mingle with Mayor George Seymour.
11am - 1pm
City Park (next to Art Gallery) Cnr Old Maryborough Rd & Main St, Pialba
FREE Bookings
4194 2441

19 & 22 Oct

Save a Life Information Session - Learn how to use a Defibrillator.
Morning sessions
Hervey Bay Senior Citizens Club, 28 Totness Street, Torquay
FREE Bookings
4128 4837

20 Oct

Australian Pensioners & Superannuants League Open Day & Sausage Sizzle
10am - 1pm
Hunter Street, Pialba
4124 8532

21 Oct

Fly a kite beach day - Join us for kite flying, relaxing on the beach and park games! BYO Lunch
10am - 2pm
Traverston Park, Burrum Heads
RSVP 4194 2441
22 Oct
Movie Day - Come and have a laugh and a cuppa. Lucky door prizes and games.
9am - 12pm
Hervey Bay Senior Citizens Club, 28 Totness Street, Torquay
$2 Bookings
4128 4837
26 Oct
Art in the Park - Watch demonstrations from local artists or try your own hand at creating a master piece.
10am - 12pm
Orchid House, Hervey Bay Botanic Gardens, Elizabeth Street, Urangan
Free
4194 2441
26 Oct
Mystery Bus Tour - Come on an adventure to who knows where!
9.15am
Bus leaves 28 Totness Street, Torquay
$40 Bookings essential with payment at the HB Senior Citizens Centre
4128 4837
28 Oct
Carnival Fun Day - Join us in the community garden for all the fun of a carnival.
10am- 12pm
Halcro Street Community Gardens, 30 Halcro Street, Pialba
$2 Bookings 4194 2441
29 Oct
OPEN DAY - Come along and try out different Club activities - Tea/coffee biscuit available/ Sausage sizzle.

8.30am - 2.30pm
Hervey Bay Senior Citizens Club, 28 Totness Street, Torquay
Free Bookings
4128 4837
31 Oct
Seniors Talent Show
Doors open 12.30pm
Hervey Bay Senior Citizens Club, 28 Totness Street, Torquay
$5 Tickets available on the day
For more information about Seniors Month activities please contact our Seniors Liaison Officer Juls De Waard on 07 4194 2441
Seniors Focused Groups and Clubs

The Halcro Street Community Centre - Seniors in focus
Hervey Bay Sixty and Better
Older Men Unlimited
Men's Sheds
Bridge Clubs
Bowls Clubs
Golf Clubs
Seniors Lifestyle Groups
Senior Citizens Centre
Australian pensioners & Supperannuants League
Seniors in Focus
Seniors in Focus is a program which supports and encourages all seniors in the Fraser Coast community to:
Live productive, enjoyable lives
Be independent and make informed choices for their own wellbeing
Participate in activities and interests of their own choosing
Access services to stay healthy, mobile and safe
LOCATION: Halcro Street Community Centre
ADDRESS: 30 Halcro Street, Pialba
PHONE: 07 4194 2441
WEBSITE FACEBOOK
Or contact our Seniors Liaison Officer Juls De Waard via email: : juls.dewaard@frasercoast.qld.gov.au
Halcro Street Community Centre

Offers access to:
Information and referrals
Individual support
Seniors directories and resources
Senior services support
Safe scooter education sessions
Specialised seniors events
Workshops
Centre Programs (listed below)
Project groups
Current programs
Drama Group - The Rolling Bones Players

The drama group meets on a weekly basis to rehearse for their choice of productions. This can involve a live performance or use of video capturing and shared on You Tube and other social media platforms.
The type of production changes each year and is based on the members feedback. Productions that have occurred in the past include locally written pantomimes, stage shows, Feature Film and TV type Shows
The age of the group ranges from 60 through to 90 years.

Indoor Walking Group

Wednesdays 9.30am
Come along and join in rain, hail or shine. Our walking group walks inside in complete air conditioned comfort with regular breaks.
Suitable for any age or fitness levels you can do as much or as little as you like. $1.00 per session inc. tea, coffee, socialising, fun and laughter.

Music Group – The Hervey Bay Inspirations

The Seniors Music Group meets every Tuesday between 10:00am and 12 noon.
Singers and musicians are invited to become involved in this relaxed group.
Members perform around town at local events and at local senior's organisations either as a group or on occasions as individuals.

Ladies fishing group

This is an ad-hoc group that organisers social fishing outings for women at local hot spots.

If you like you get outdoors and enjoy the sport of fishing, enquire today.
The outings usually include a sausage sizzle or similar.
Meet new friends, bring your rod and throw in a line.

Textiles Group

If you are into sewing, quilting crochet, knitting or the textile arts, then this is the group for you.
The textile group meets on a Tuesday morning (excluding the first Tuesday of the month).
Members share their ideas, knowledge and experience for all types of textile works.
This is the perfect group to socialise and learn new skills. Come along and join the fun.

Tai Chi

Keep active with this relaxed and informal approach to Tai Chi.
Nurture your mind body and spirt.
Thai Chi is low impact and a fantastic way to keep the joints moving and help you maintain an active lifestyle.
Express your interest today.

Thursday social days and chats

Every Thursday at 10.00am the Halcro Street Community Centre plays host to a group of high spirited, rambunctious over 50's to take part in games, activities, listening to guest speakers, outings, special events and of course coffee, tea & chatting.
Fill your morning with friends and meet new ones.