Fraser Coast Ability Awards
The ability awards are held annually to recognise those living with a disability and individuals, groups and organisations who have contributed to improving the lives of people with disabilities.
The awards shine the spotlight on those in our community who are providing inspiration, demonstrating leadership, offering mentorship and achieving results in their chosen fields.
2022 Categories and Award Recipients
Ted Weber Individual Achievement Award – Selena Bentley
Selena has faced lifelong disabilities but was only diagnosed in 2013. Selena has high anxiety especially social anxiety but is continually working to overcome this.
While still studying, Selena has started her own business creating candles and tie dye products. She uses this business to give back to the community by donating products to schools or community groups to raffle off in their own fundraisers. Selena never says no to an opportunity to help others.
Young Community Spirit Award - Isabella-Kate Bellert
Isabella not only plays in the Wheelchair Basketball team, but she has also taken on fundraising for the club and volunteers every Friday night at the canteen all while working four days a week.
She finds pride in showing that despite disabilities, people are able to gain meaningful employment. Isabella does all of this with a happy disposition.
Community Spirit Award – Brian Reckenberg
Brian helps organise and run monthly community BBQ days to bring people together. Brian ensures no one is left out and everyone feels welcome.
He also has a lot of NDIS knowledge and offers to help anyone who may be struggling to access the support they need.
Brian worked hard to finding employment suited to him and has now been able to get a job that he enjoys and is skilled in.
He is a fantastic role model as he is always willing to give things a go, helps others in need and never lets his disability hold him back.
Community Champion Award – Joseph Pratt
Joseph has worked within the community for the past 22 years mentoring young people with a disability.
Joseph's holistic based approach encompasses the physical, emotional and mental wellbeing of the individual and their families. Joseph promotes respect of yourself, others and the environment.
Joseph has contributed to individuals gaining valuable life skills and attaining independence through mentoring to become productive citizens of the community.
Community Organisation Award – Mary River Mighty Lion Hearts
As the only Lion's Club in the world to be run exclusively by people with a disability, they have been blazing the trail, and setting an example for their peers for how we can all give back to our community in a meaningful way.
The club can be seen at Bunnings running sausage sizzles, Harvey Norman cooking up delicious sausages and at Station Square working hard selling raffle tickets to raise money to give back to their community.
The club prides itself on its positive attitude, its atmosphere of inclusiveness and always having fun whilst giving back to the community.
Education Provider Award – Early Childhood Development Program (ECPD)
ECDP is an early intervention program for children 3-5 years with special needs who require an intensive, multidisciplinary program to develop skills and behaviours to maximise their potential.
The program supports children's early learning and helps develop the valuable skills children will need to be successful learners now and in the future.
ECDP works collaboratively with families, early childhood education centres and the child's future school to maximise continuity of teaching and learning to make a smooth and successful transition to their local school.
Employment Provider Award – Beyond the Spectrum – Taste of Beyond
Taste of Beyond has given people with a disability opportunity to be part of the community with supported employment.
They not only train, support, and provide employment, but they also guide in other areas like CV writing and customer service which would help employees in future opportunities.
Since their launch in February, they have employed more than 15 people with a disability.
Customers have reported seeing different employees growing in confidence and a great ability to complete tasks unsupported.
Taste of Beyond's aim is to teach each individual transferable skills that the community require to go on to greater employment opportunities and to keep giving those with a disability an opportunity for paid employment.
Sport and Recreation Award – Hayleigh Kennedy
Hayleigh is a Multiclass T/F20 athlete. She was chosen to represent Queensland Little Athletics at the Nationals in Melbourne this year and came home with 1 Gold and 3 Silvers. She has also represented the Wide Bay in cross country.
Hayleigh has been a wonderful representative of the region not only for her incredible results but for spruiking the Fraser Coast in media interviews.
Ability Awards Hall of Fame - Michael Oxley
Michael, a member of the Sporting Wheelies and Disabled Sport and Recreation Association since 2003, has helped many people with a disability work towards their sports, fitness, health, and mobility goals.
Coach Oxley is the founder of the Fraser Coasters Wheelchair Basketball Club has won many awards over the past couple years. Michael has made some high achievements having one of his players he currently coaches being selected to play in the Australia Team and Queensland team.
Local accolades include:
2021 Community Champion
Lead 2021 Community Organisation
Coached 2020 Fraser Coast Sports Team of the Year
Michaels ongoing support of the emerging leaders and voice from the community has been unwavering.
Awards Day - Presentation and Function
The 2022 Ability Awards presentation was held at the Brolga Theatre and Convention Centre on Thursday 8 September 2022.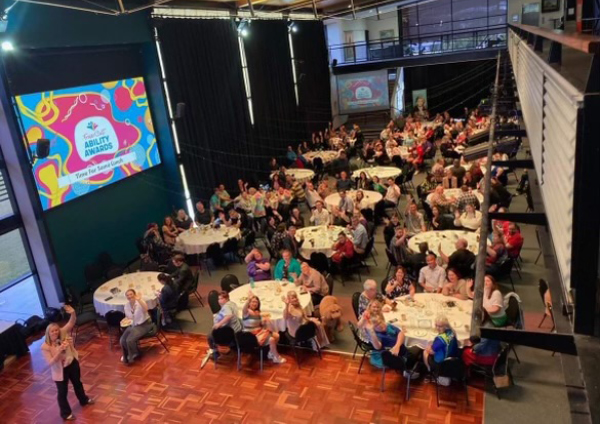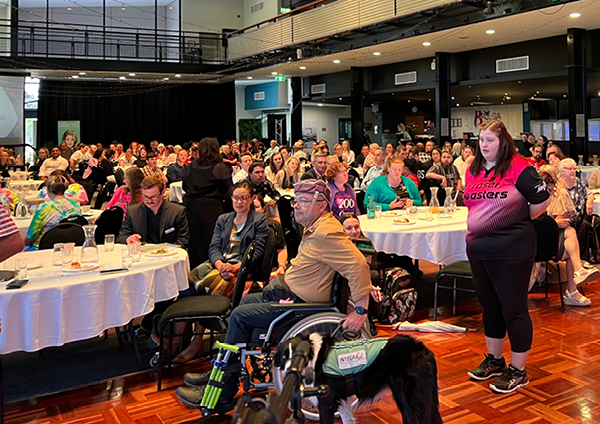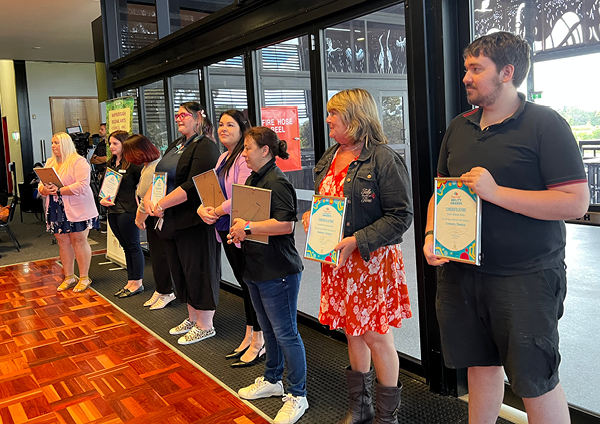 | | | |
| --- | --- | --- |
| Employment Provider | For a business that provides employment opportunities for people whose lives are affected by disability. | Sponsored by National Disability Services |
| Education Provider | For schools, registered training organisations and education providers that provide high quality, relevant and inclusive education for people whose lives are affected by disability | Sponsored by Assistance Industry Resourcing |
| Community Champion | For an individual who is a carer, paid or unpaid, and has gone above and beyond for their clients. | Sponsored by Get Going Support |
| Community Organisation | For an organisation, group, club or business based on, or servicing the disability community. | Sponsored by Endeavour Foundation |
| Community Spirit | For an individual who lives with a disability who shows strong community spirit, is inspirational and helpful. | Sponsored by Time Out Disability Services |
| Young Community Spirit | For an individual who lives with a disability and is aged under 25, shows strong community spirit, is inspirational and helpful. | Sponsored by Core Connect Psychology |
| Ted Webber Individual Achievement | For an individual who lives with a disability and has outstanding achievements in their chosen area. | Sponsored by Centacare Community Services |
| Sport and Recreation | For an individual who lives with a disability and has found success within their chosen sport and/or recreation. | Sponsored by ProMelius Physiotherapy |
| Hall of Fame | For an individual, organisation or business which has won at least two Categories in the past five years of the Ability Awards. | Sponsored by Community Lifestyles Agency |
Previous years
2021 Categories and award recipients

| | |
| --- | --- |
| Community Champion | Michael Oxley |
| Community Organisation | Fraser Coaster Wheelchair Basketball inc |
| Individual Achievement | Dre Kelly |
| Sport and Recreation | Emerald Wilmhurst |
| Young Community Spirit | Blake Sindel |
| Education Provider | Maryborough State High School |
| Employment Award | Wilcox Bikes |
| Community Spirit | Rebecca Greenshields |

2020 categories and award recipients

| | | |
| --- | --- | --- |
| Young Community Spirit Award | Awarded to a person who has a disability and has made a significant contribution to their community (25 years and below). | Henry Rider |
| Ted Weber Individual Achievement Award | Awarded to a person who has a disability and has overcome adversity to achieve personal goals (no age limit). | Jess McDowell |
| Sport and Recreation Award | Awarded to a person who has a disability and has displayed commitment in sporting and recreational activities. | Henry Rider |
| Community Champion Award | Awarded to a person who has made a significant contribution to improving the lives of people with a disability. | Jayden Lem |
| Educational Provider Award | Awarded to a person or service that has made a significant contribution in providing inclusive educational support to meet the educational needs of people with a disability. | Maryborough State High School Enrichment Precinct |
| Community Organisation Award | Awarded to a group or organisation that provides support and advocacy for people with a disability. | Mary River Mighty LionHearts |
| Employment Award | Awarded to a business or organisation that has made a significant contribution to the community by providing inclusive access to employment opportunities. | OCTEC Disability Employment Services |

2019 Categories and award recipients

| | |
| --- | --- |
| Sport and Recreation | Aiden Witt |
| Employment Provider | Kmart Hervey Bay |
| Education Provider | Belinda Epperson |
| Family Values | Carolyn Mudge |
| Community Champion | Sharon Kampman |
| Community Organisation | Treasure Trove Op Shop |
| Community Spirit | Patricia Milliner |
| Young Community Spirit | Jeremiah Hay |
| Ted Webber Individual Achievement Award | Jessica Stevens and Rhys Graves (co-winners) |