New Director appointed to the Hervey Bay Regional Gallery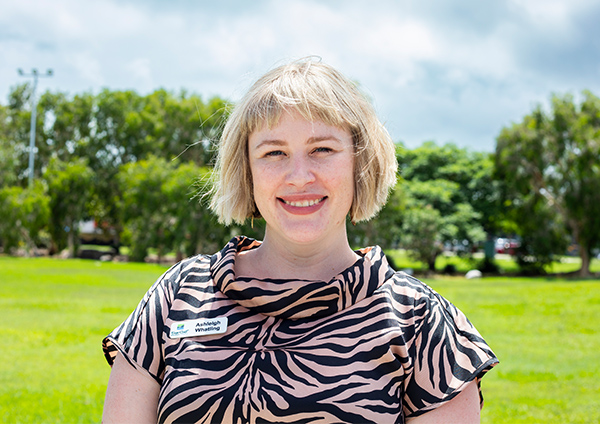 The new Director of the Hervey Bay Art Gallery, Ashleigh Whatling, is driven by storytelling.
No matter the media (painting or sculpture) or style (modernist, abstract or impressionist), it's the story behind the work that she finds fascinating.
Ashleigh sees the gallery, which is undergoing a multimillion-dollar refurbishment, as more than just a space where touring exhibitions could call home for a short while.
"I would like it to become a destination, an attraction, by combining our local stories with the stories of the visiting exhibitions," she said.
"I would like our stories to be on display at the same time as the visiting exhibitions, so they provide context.
"For example, an exhibition planned for next year will focus on the walk off by indigenous Australian stockmen from Wave Hill Station. The strike for better pay and conditions is a significant moment in the Aboriginal Land rights story.
"While the exhibition is here, I'd like to consult with our Butchulla community about the opportunity to have exhibits from local artists that tell stories of their experiences with land rights and native title here on the Fraser Coast.
"Telling our stories, especially those of the Butchulla People, is the difference between the gallery being just a building and a being a destination, a place people want to visit; not just locals but a place that attracts people to the region to hear our stories.
"There are so many wonderful stories here."
In the five weeks Ashleigh has been on the Fraser Coast she has had a "wonderful introduction to the Bay."
"Fraser Coast people are very generous," she said.
"I bought a bike from Gumtree to cruise the Esplanade. The seller brought it down from Maryborough and as he was putting it together on my front lawn my neighbours came over to introduce themselves and invite me to dinner."
Before Hervey Bay Ashleigh was the Senior Curator Visual Art and Design at the Queen Victoria Museum and Art Gallery (QVMAG) in Launceston.
She has two masters – one in Art History, and one in Museum and Curatorial Studies from the University Of Adelaide, and a cat Frank she rescued as a 6-month-old kitten.
Taking up the position as the gallery is under construction has presented many opportunities.
"My top priority is to re-establish a team and set up the gallery ready for the anticipated April 2022 opening.
"The gallery has been closed since March 2020 so I want to reconnect with the community and launch new programs.
"I am passionate about increasing accessibility and inclusivity, so everyone feels at home in the gallery and sharing our stories.
"By sharing our stories, our similarities and differences we draw people together."