Visitor numbers on the rise at the Orchid House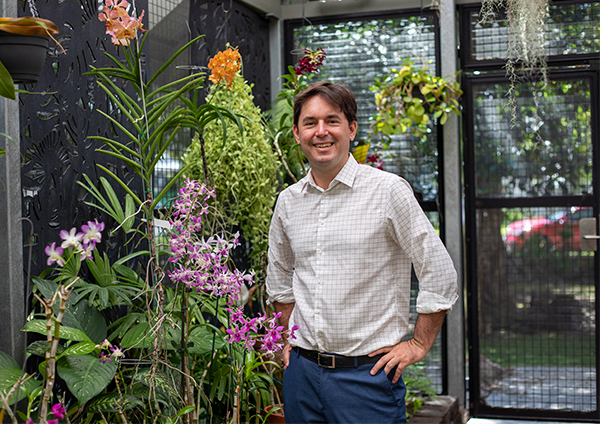 The Orchid House at the Hervey Bay Botanic Gardens is proving a popular attraction for local residents and tourists with more than 15,000 people visiting in 2021.

Fraser Coast Mayor George Seymour said the Orchid House was doubled in size in 2019 with the support of a grant through the State Government's Works for Queensland program.
"It is great to see so many people taking the opportunity to visit to see rare orchids in flower," he said.

"The Fraser Coast has the largest publicly owned orchid collection in Australia, with the major expansion allowing us to showcase even more of our 5500 orchids to the community.
"In mid-2021, Council did some further minor renovations to make the facility even more attractive and ensure the space is used as effectively as possible.
"This included upgrading the garden beds, increasing hanging space through mesh roofing for particular orchid types, upgrading the maintenance area and adding new outdoor furniture.

"It's interesting to see that the peak month in 2021 was September when almost 2500 people visited, shortly after these renovations were completed. It is also pleasing that the visitor numbers are on the rise, increasing from 13,036 in 2020 to 15,306 in 2021."

Cr Seymour said the Orchid House was one of a range of fantastic facilities in the beautiful Hervey Bay Botanic Gardens, which were situated on 6000 year old dunes spanning 26 hectares.

"The gardens boast a wide variety of established plants of the Wide Bay and Great Sandy region along with walking tracks, an Australian bush tucker garden, a Chinese garden, labyrinth, the Orchid House and a natural playground," he said.

"The Hervey Bay Botanic Gardens are just one of many amazing outdoor spaces on the Fraser Coast, which I encourage locals and visitors to get out and enjoy to stay healthy and active in our community."

The Orchid House is open Mondays to Fridays from 9am to 2.30pm and entry is free.

More information about the Hervey Bay Botanic Gardens and the Orchid House is available at https://www.frasercoast.qld.gov.au/botanic-gardens-orchid-house