Help guide the development of the Mary to Bay Rail Trail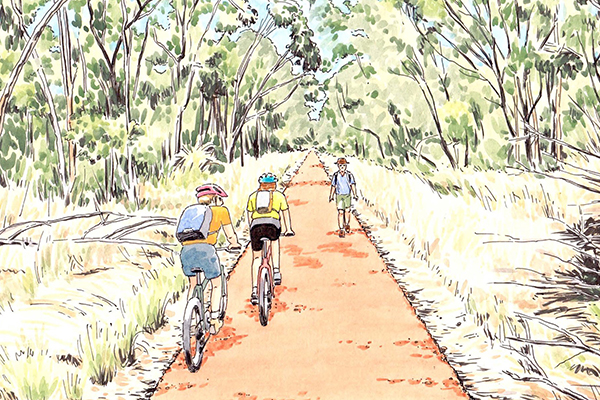 You don't need to wear lycra to be a member of the Mary to Bay Rail Trail Advisory Committee.
At the Council meeting on Wednesday, April 27, Cr David Lewis was appointed as chairman of the newly created committee and Cr Phil Truscott as a member of the committee, with expressions of interest to soon be called from community members and groups keen to be involved too.
"The Mary to Bay Rail, which stretches from Maryborough to the Urangan Pier, follows the now disused rail line that connected the coal mines and farms of Wide Bay Burnett to the Urangan Pier," Cr Lewis said.
"A feasibility study conducted for Council found that developing the Mary to Bay Rail Trail could inject $3.2 million into the local economy, providing a tourism drawcard and benefitting locals who want to explore the great outdoors by walking or riding along the trail.
"The new advisory committee will provide a forum for the community and user groups to make recommendations to Council on the development and management of the Mary to Bay Rail Trail.
"It will also help apply for grant funding from other levels of government."

Council endorsed the Mary to Bay Trail Development Plan in 2019 and has refurbished sections of the trail from the Urangan Pier to Stockyard Creek.
In the past two years, members of the Fraser Coast Bicycle Users Group have been heavily involved in refurbishment works of sections of the trail.
The new advisory committee will comprise two Councillors, one representative from the Department of Transport and Main Roads; one representative of Fraser Coast Tourism and Events; and six community members or members of representative key user groups.
Rail Trails are typically the conversion of disused railway lines into multi-use recreation paths, usually for walking, cycling and sometimes horse riding.
Council will soon call for expressions of interest from people who would like to join the advisory group.