Prepare for storm season - October is Get Ready Month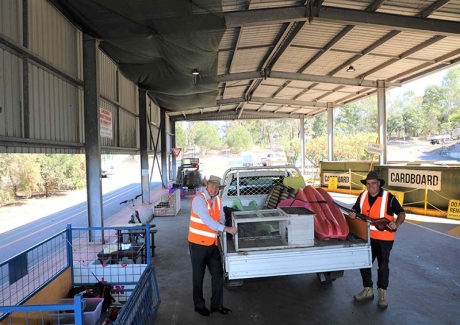 With a wet Spring and Summer predicted, it's time to Get Ready and check your 'What If Plans', escape routes and evacuation kit.
"October is Get Ready Month," Councillor David Lee said. "It's time to go over your plans, as a lot can change in 12 months.
"The family or friends on higher ground you were planning to move in with to ride out a cyclone may have moved; or you may now have a pet you need to include in your plans, and ensure you have food for them as a well as the family in your evacuation pack.
"Check that the list of telephone numbers you have for family, friends, and emergency services, such as your doctor, are up to date.
"Make sure you will have enough medication to last if the Bruce Highway is cut for a couple of days by floodwater.
"October is also a good time to clean up around your yard; to make sure gutters are cleaned, branches overhanging your house are pruned and loose items, such as old pet enclosures or garden furniture you no longer want is taken away.
"Broken branches and loose items such as a trampoline can become airborne in a storm or cyclone and damage houses or injure people."
A list of items that can be disposed of for free is available on the Council website www.frasercoast.qld.gov.au/storm-season-clean-up.
Residents are urged to sort their loads to ensure all reusable and recyclable items and green waste can be disposed of for free and don't end up in landfill.
Tyres, mattresses or fridges, freezers and air conditioners that have not been degassed will attract the normal disposal fee.
Loads from commercial operators will be charged at normal rates.
Information on how to plan ahead is available at www.getready.qld.gov.au/ while the Fraser Coast Disaster Dashboard - http://disaster.frasercoast.qld.gov.au/ - was a one stop shop of emergency services information.
"To stay up to date with road closures, river heights and storm warnings make sure you download the Disaster Dashboard app to your phone and opt-in for email or SMS notifications," Cr Lee said.
"You can even log on to cameras and watch livestreams of some of our bridges and river through the app and the Disaster Dashboard webpage."
Get Ready Month will kick off with Food n Groove events in Hervey Bay and Maryborough.
The first Food n Groove will be held at City Park in Hervey Bay (beside the Hervey Bay Regional Gallery) on Friday night (October 7) and be followed a week later with Food n Groove at the Maryborough Showgrounds on October 14.
As part of the Get Ready Food n Groove events, attendees will be able to have a close-up look at emergency service vehicles and you will be able to talk with emergency service representatives on how to plan and prepare for bushfires, storms and cyclones.
As usual at Food n Groove events, a variety of food trucks will be operating, and a band will keep your toes tapping from 4pm to 9pm.