Trees beautify Toogoom drain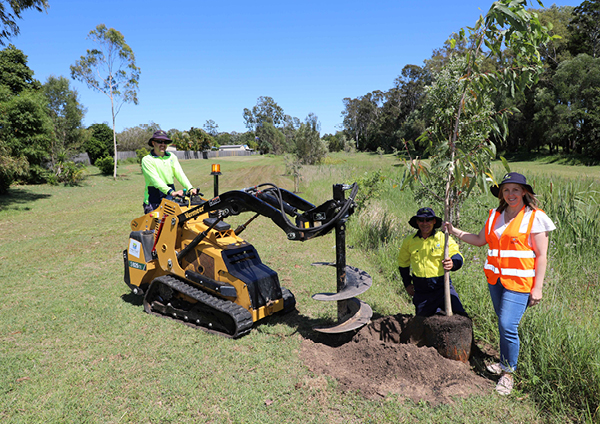 Digging in … Cr Jade Wellings helps Council's Natural Areas staff Leo Steyn and Oscar Suarez plant the 36th Queensland blue gums in a drainage reserve at Toogoom.
An avenue of 36 Queensland blue gums has been planted down a drainage reserve off Jeppesen Street at Toogoom.
"The planting was the idea of a resident who backed on to the drainage reserve and wanted to develop the corridor for improved fauna habitat and benefit. The project was supported by Council's Natural Environment and Stormwater Management teams," Cr Jade Wellings said.
"The trees will form a beautiful avenue along the drain and eventually provide shade for people who walk through the area.
"The trees were planted more than 15 metres apart to help create a parkland setting."
The planting is part of Council's Greening the Fraser Coast program, under which it has committed to plant 100,000 trees by 2030.
"Increasing the amount of native vegetation cover across the Fraser Coast has several benefits including increasing habitat and food sources for native animals, mitigating urban heat island effect, lowering greenhouse gas emissions, and enhance stormwater management for water quality benefits," Cr Wellings said.
Since January 2019, when Council adopted its target of 100,000 trees by 2030 about 48,960 trees have been planted, with many projects, including pocket forests, planned for delivery over the coming years.
Most are along road verges, in parkland areas and community revegetation sites.
For more information on the program and to keep track of the tree planting tally go to www.frasercoast.qld.gov.au/100-000-trees
If you would like to plant a tree and add to our tally, you can join our next Community Tree Planting Day on Saturday 26 November at Fay Smith Wetlands in Maryborough from 8am - 11am.
There will be fun activities for the whole family including stake painting, an eco walk and BBQ breakfast provided.