Along came Poly – the polystyrene melter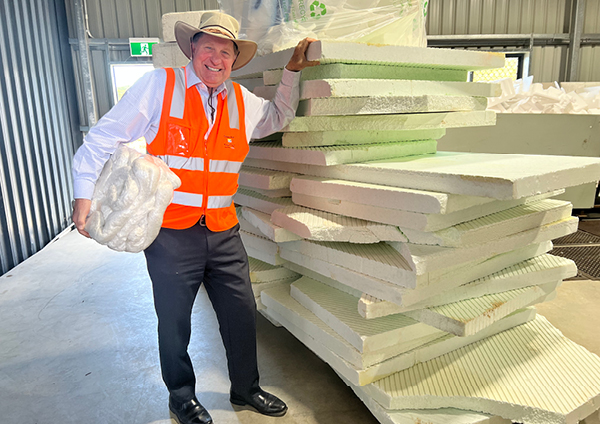 Fast fact: polystyrene packaging is light, helps protect items in transit and can take up a lot of space in landfill if not recycled.
Fraser Coast Regional Councillor David Lee said the amount of polystyrene recycled in the region had more than doubled in the last financial year.
"In 2021/22, Fraser Coast residents recycled 21 tonnes of polystyrene; that's a mountain of material that was diverted from landfill," Cr Lee said.
"That's a lot of space that has been saved, and the more space we can save the longer we can keep the Saltwater Creek Road landfill operating.
"The amount of polystyrene that is being recycled is growing; up from 10 tonnes in 2020/21 to 21 tonnes last financial year.
"That is amazing and something to be celebrated during National Recycling Week which runs from November 7 to 13."
Polystyrene can be taken to the recycling shed at Council's Nikenbah transfer station and the Maryborough landfill. It should not be placed in the yellow lid recycling bins that are collected from in front of your house.
The polystyrene collected by Council is fed into a machine that shreds it and melts it in a sausage which is formed into bricks ready for resale.
"The bricks are sold, and the material is used to create other products such as picture frames and boards," Cr Lee said.
"Everything that can be recycled helps us cut our carbon footprint and is good for the environment."
In the last financial year more than 100,000 tonnes of material was diverted from Fraser Coast landfill for recycling and reuse, he said.
That includes:
• 35,300 tonnes of green waste (converted to mulch);
• 33,500 tonne of clean fill;
• 11,000 tonnes of mixed paper, cardboard, glass, steel cans, hard plastic and aluminium cans;
• 4,500 tonnes of concrete (crushed to recover steel and used as fill on building sites);
• 65 tonnes of plaster board;
• 32 tonnes of tyres, and;
• 21 tonnes of polystyrene.
More than 600 tonnes of items were diverted from landfill to be reused or repurposed through the Nikenbah and Maryborough tip shop.
"If items are not in re-sellable condition, we salvage whatever we can at our recycling shed before disposing the rest to landfill," Cr Lee said.
At the same time 11,000 tonnes of material collected from the kerbside recycling bins each year was processed through the Materials Recovery Facility (MRF) in the Nikenbah industrial estate.
"While a lot of things can be recycled, not all of them can go in the recycling bin; some, like paints and oils, broken electrical items and polystyrene packaging, should be taken to a transfer station or landfill site," Cr Lee said.
"Most of the items that can be recycled can be disposed of for free at the Council transfer stations and landfill.
"There is a charge to dispose of fridges, freezes and air conditioners to cover the cost of degassing and processing the refrigerant.
"There is also a cost for tyres to cover the cost of shipping them to a processing plant near Brisbane.
"But other items such as steel, green waste up to 1 tonne and paper are accepted for free.
"If you sort your load before heading to the landfill or transfer station, it is easy and quick to unload the reusable and recyclable items and green waste so it does not end up in landfill."
To find out more about recycling and to download an A-Z Recycling Guide, go to www.frasercoast.qld.gov.au/recycling-guide