Council and plantation owner upgrade Tiaro bridge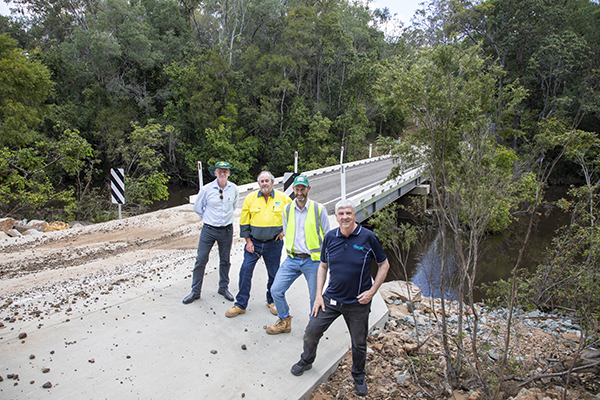 Travel times to reach the coast have been cut for Bauple and Tiaro residents following a successful project involving HQPlantations and the Fraser Coast Regional Council to reopen the Golden Gate Bridge in Tahiti Road.
While the bridge is owned by HQPlantations, it is also used by Fraser Coast residents to reach the Cooloola Coast Road.
It was closed in 2017 for safety following a major flood event and concrete barriers were installed to stop vehicles crossing.
"Following requests from residents, Council and HQPlantations held talks and agreed to works to re-open the bridge," Cr Phil Truscott said.
"Council contributed $100,000 towards the $350,000 HQPlantations-managed project in recognition of the community benefit the bridge provides for residents in the Tiaro and Bauple districts to access the coast.
"I am grateful that HQPlantations saw that while the bridge was built for their operational plantation access, it also provides a vital community link.
"Together we have been able to create a positive outcome for the community."
The bridge construction used innovative new building techniques combining engineered timber, concrete and steel.
"The bridge combines a heavy-duty treated pine plywood deck on steel girders," Technical Sales Manager from the Grafton-based Big River Group, David Chapman said.
"The hoop pine for the plywood decking is sourced from HQPlantations forests in Southeast Queensland.
"The logs are sent to Grafton to be peeled, dried, fabricated and treated. The steel girders were also fabricated at the Grafton Mill Site."
The bridge was then built, dismantled, and trucked north to be reassembled on site – a job complicated by two floods this year – with the work overseen by Fraser Coast-based JAC Civil.
"Showcasing the strength of engineered timber, the bridge can accommodate fully loaded B-double semi-trailers," Mr Chapman said.
"Many timber bridges are being replaced with concrete. We're trying to prevent that by providing a sustainable product utilising a renewable resource.
"We believe that bridges made from plantation timber are sustainable. The amount of embodied energy to manufacture the timber components is far less than that of concrete and steel, they are a good storage unit of carbon and have a superior strength-to-weight ratio of similar concrete bridges.
"They tick a lot of environmental boxes and support many Australian jobs."