Be a part of the Hands Photographic Exhibition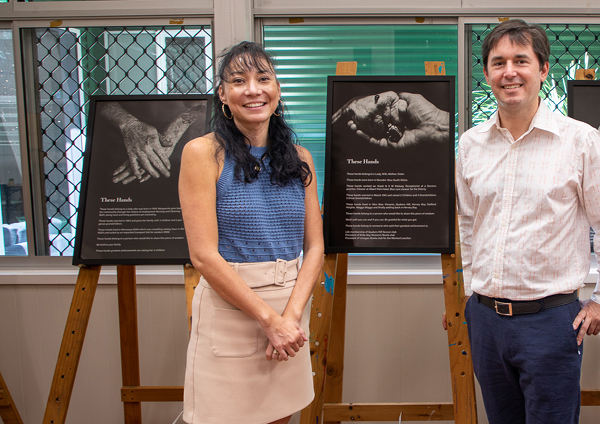 Exhibition … Photographer Rowena Allen and Fraser Coast Mayor George Seymour at the opening of the 'These Hands' exhibition in 2023.
The black and white photo of Anne's hands holding a picture of her and husband Brian, ready for a rock and roll dance demonstration is priceless.
It was part of a photographic exhibition staged by the Fraser Coast Dementia Alliance last year to raise awareness of dementia – a group of more than 150 illnesses that can rob a person of their memory.
Brian hopes the exhibition, which will be held again this year as part of Dementia Awareness Week, helps build community awareness about dementia.
"We were very involved in rock and roll dancing and a part of a demonstration group performing Rock and Roll, Swing, Lindy Hop and partner dancing until a few years ago until Anne gradually forgot the steps," he said.
"We hardly do it anymore."
He is keen to raise awareness about dementia.
"We are an aging population. The Fraser Coast is a great place to retire, so we will see more people here affected by dementia," he said.
"It's not just politicians. Everyone, especially businesses, needs to be aware of dementia and how they can help.
"Just entering a business or a shop can be very stressful for both the person with dementia and their carer.
"Staff can help by being understanding and giving people time.
"Anne finds it stressful because she cannot remember the words she needs to tell me what she needs, and I find it stressful because I'm trying to understand what Anne is saying. Sometimes it can just be odd words out of context."
The Fraser Coast Dementia Alliance will host the photographic exhibition as part of Dementia Awareness Week activities during September.
"Dementia is an umbrella term for more than 150 illnesses which can affect people of any age but is best known to impact more mature community members," Councillor Paul Truscott said.
"As the Fraser Coast's population leans towards people aged 50 years and over, there is a high chance this illness will impact every family somehow.
"Dementia Week (September 18 to 24) helps raise community awareness and create a community that is understanding and supports families living with dementia, whether by advocating for more services or ensuring our facilities are accessible and welcoming."
Last year the photographic exhibition titled 'These Hands' was displayed at the Treehouse Wellbeing Centre in Urangan, the Hervey Bay Community Centre and the Brolga Theatre in Maryborough.
"The exhibition includes photos of the hands of individuals living with dementia accompanied by a storyboard which helps to remind viewers of the real person and what they have achieved during their life," Fraser Coast Regional Council Seniors Liaison Juls de Waard Officer said.
"We are now looking for people who would like to be involved in the exhibition for this year," she said.
"If you want to be involved, call me on 41942441 or email juls.dewaard@frasercoast.qld.gov.au."
The Fraser Coast Dementia Alliance works to increase awareness and to create a dementia-friendly community where individuals can continue to live as a part of their community with respect and dignity.
To assist businesses and other agencies to increase their Dementia Friendliness the Alliance has created a checklist that identifies what you can do to help with this and contacts for resources to further enlighten and assist.
The checklist is available on the Fraser Coast Regional Council website at www.frasercoast.qld.gov.au/downloads/file/4112/dementia-friendly-checklist.
The Alliance can be contacted on 4194 2441.