Local TAFE students build sandbag filling stations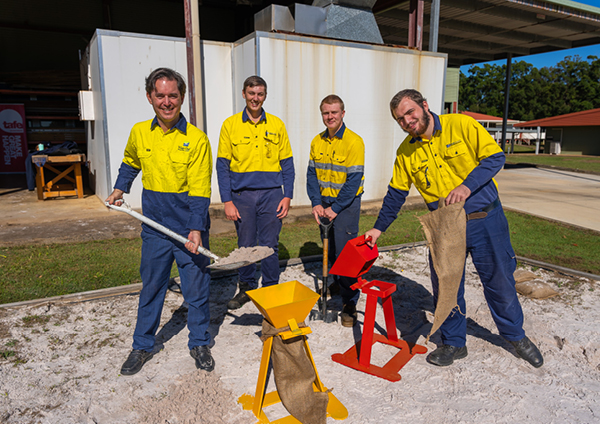 Fraser Coast TAFE students learning engineering metal fabrication have used their new skills to develop six sandbag filling stations to assist the local community during emergencies.

Mayor George Seymour today accepted the donation of the new sandbag filling stations on behalf of Fraser Coast Regional Council and thanked the students for their hard work.

"Ensuring Council, SES volunteers and homeowners have access to sandbags during a natural disaster boosts our ability to respond in an emergency," he said.
"Thanks to the skills of TAFE engineering metal fabrication students, the process of filling sandbags will be a lot easier."
Cr Seymour said that during emergencies, such as heavy rain and floods, Council sets up temporary sandbag filling stations for residents who need them to protect their property.
"People generally have had to hold the bags open and fill them with sand. With these filling stations, the process will be easier and quicker," he said.
Cr Seymour said this project enhanced the prefilled sandbag program Council has conducted with the Maryborough Correctional Centre and the Fraser Coast SES Unit.

"The new sandbag filling stations will be housed predominantly at the SES depots for deployment when needed," Cr Seymour said.
In the four floods last year (January and February 2022), about 25,000 sandbags were used by Council and residents.
"I congratulate the TAFE students for thinking outside of the box to come up with a project that is practical and benefit so many people across the region," Cr Seymour said.
"Council uses a lot of sandbags to protect its facilities, especially those in the Maryborough CBD and in the construction of the temporary flood levee which is installed down Adelaide Street to protect the CBD."
The 12 TAFE students who built the sandbag filling stations are in the East Coast Apprenticeships (ECA) from Hervey Bay and Maryborough.
They range in age from 17 to 52 years old and are undertaking an eight-week course in engineering metal fabrication on the Hervey Bay TAFE campus.
"They are learning both theoretical and practical aspects of engineering and manufacturing processes, including how to use hand tools, power tools, workshop machines, fabrication equipment, and electric welding machines safely and effectively," TAFE Queensland Engineering Teacher Tasvir Singh said.
"They were not content with just fulfilling the course requirements and decided to take their project to the next level by creating a sandbagging machine that will benefit their community during times of disaster, such as flooding.
"Manufacturing these machines is innovative and purposeful, providing the community with an essential tool during times of crisis.
"As an educator, I am delighted to see these students taking the initiative to think beyond the classroom and consider how their skills can benefit others.
"It is inspiring to witness students using their newly acquired skills to create something that will benefit their community.
"Their project is an example of how learning can be made more meaningful by encouraging students to think beyond themselves and consider how they can positively impact their community.
"The project is a testament to their willingness to go above and beyond the course requirements, and it is an outstanding achievement."