Jobs and careers galore at local Showcase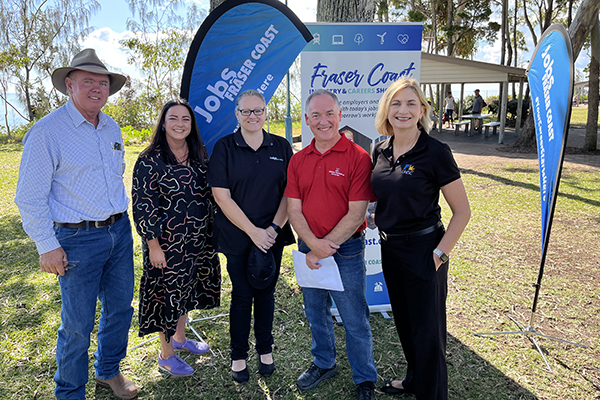 JOBSEEKERS of all ages are being encouraged to go along to next week's Fraser Coast Industry & Careers Showcase to tap into current job vacancies, apprenticeship opportunities and long-term career pathways.
The free event – on June 7 at Maryborough Showgrounds – is a partnership between Fraser Coast Regional Council and Jobs Fraser Coast, a Regional Jobs Committee proudly funded by the Queensland Government.
Member for Hervey Bay Adrian Tantari said the Fraser Coast Industry & Careers Showcase was a great example of a collaborative local solution to skills shortages across the region.
"Skills and workforce gaps aren't just a local problem – they exist nationwide – but it's great to see so many local organisations coming together to address them," Mr Tantari said.
"The Palaszczuk Government's Good people. Good jobs. Workforce Strategy 2022-2032 is designed to educate the workforce, attract and retain skilled workers, and connect industry, community and government to more Queenslanders.
"The Showcase does all those things, and I encourage all jobseekers to attend it."
Fraser Coast Mayor George Seymour said the event aimed to fill current vacancies, address skills shortages and help local people onto local career pathways, by bringing businesses, trainers and support agencies together with students and jobseekers all in the one place.
"The Showcase will feature more than 80 organisations ready to hire or train local workers, from industries including trades and manufacturing, timber and agriculture, health and aged care, police and emergency services, and more," Cr Seymour said.
"We really want to see local people benefiting from the significant economic growth and great opportunities on offer in the region at the moment, and attending this event will be one of the best ways they can do it."
Jobs Fraser Coast Chair Michelle Hay said the Maryborough Showgrounds would once again be abuzz with real-time demonstrations, up-close and hands-on experiences, and plenty of opportunities to eat, drink and chat to employers and industry experts.
"There'll be some impressive equipment on show, as well as timber, manufacturing and education hubs to enable people to head where they're most interested," Ms Hay said. "We're especially excited about our biggest single exhibit – a huge site led by Downer and shared with John Holland and the Department of Transport and Main Roads.
"We're keen to build on the success of last year's event, which attracted more than 2,300 students and jobseekers and led to a range of tangible employment and apprenticeship outcomes.
"But we're also aware that some people have barriers to work, and we want to reassure them there will be organisations at the Showcase that can provide them with training, funding options, wellbeing support and job-readiness skills.
"We want to give people their best chance of success."
Among the many exhibitors returning to the Showcase this year is disability support organisation Community Lifestyles Agency, which will be using the Showcase as a promotion and recruitment tool.
"As the NDIS continues to grow, more people are requiring support, and the demand for support workers is growing quickly," said CEO Julie Devling.
"We and other agencies like us will be there at the Showcase to talk to people about the rewards of supporting others to be the best they can be – whether it's assisting with daily tasks, providing emotional support or helping people to achieve their personal goals.
"We're also keen to get more people on the pathway to becoming a support worker if they don't have the necessary qualifications. It's not as arduous as many might think, and there will be registered trainers at the Showcase who can help them."
The full list of exhibitors is available on the Jobs Fraser Coast website.
The Fraser Coast Industry & Careers Showcase will take place at the Maryborough Showgrounds on Wednesday, June 7. For more details, visit www.jobsfrasercoast.com.au.