Council considering green bins for Fraser Coast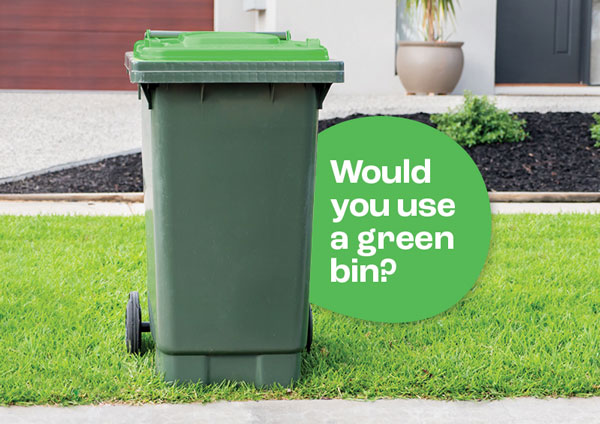 Fraser Coast Regional Council is considering introducing an additional wheelie bin to collect green and food waste and wants to know what interest there is from residents.
Mayor George Seymour said organic materials such as green waste and food scraps make up about half of what we throw away in our general waste wheelie bin each week.
"Although organic waste is often seen as natural, when it breaks down in our landfill without oxygen it releases methane, a harmful greenhouse gas," he said.
"Reducing the amount of food and green waste that goes to landfill is good for the environment with the collected organic material used to make composting products that improve soil quality."
Cr Seymour said Council's Fraser Coast Waste Strategy aimed to limit the amount of waste going to landfill, with a kerbside green/food waste collection service being one way of achieving that goal.
"Council is starting to explore options, and we want to know if an organics kerbside collection service is something local residents want," he said.
"A short online survey is open now on Council's Engagement Hub website.
"The survey seeks general information about what residents currently do with food and green waste and if they would use a third wheelie bin for organic waste.
"We're also asking residents what size general waste and recycling wheelie bins they would want, and the frequency of services they would want if an organics kerbside collection was introduced.
"While we are starting the planning work and considering options now, we are still in the early stages and any potential organics collection service would be unlikely to start before 2025.
"Council's new five-year Corporate Plan outlines our commitment to plan for the future and ensure we have focused service delivery, and that's exactly what we are doing with this potential new waste collection service for residents."
The online survey is open until Sunday 24 September 2023.
The consideration of an organics collection service follows on from Council's involvement in the Love Food Hate Waste initiative, which provides tips and tricks to help save time and money and prevent food waste.