A Dog's Day Out: A Pawsitively Unmissable Event for Pet Lovers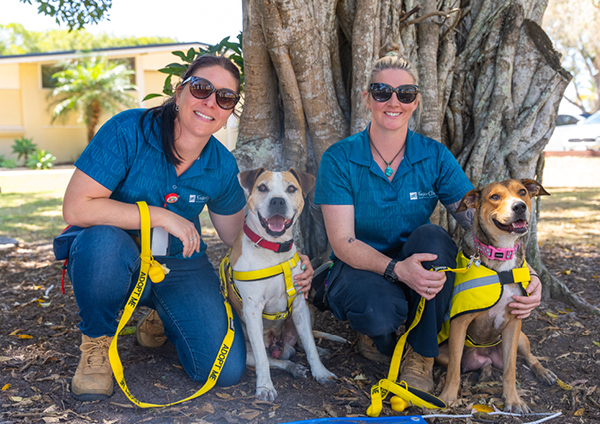 Fraser Coast Regional Council is thrilled to announce the much-anticipated return of Dog's Day Out, a pawsitively unmissable community event celebrating our furry friends and responsible pet ownership.
Cr Zane O'Keefe said Dog's Day Out was designed to be both an educational event and a fun day out for the whole family.
"Having a pet can bring great joy, but it also comes with great responsibility," he said.
"We encourage anyone with a dog to come along to check out the products available to pamper their pooches, learn about responsible pet care, and ensure their registration is up to date."
Based on feedback from last year's event, Dogs Day Out will have a new home this year at Dayman Park in Urangan and at a new earlier time on Sunday, 15 October 2023, from 8am to 12pm.
As part of the event, pet owners will be able to renew their registration, pay fees, or register their animals for the first time.

Cr O'Keefe said Council offered free first-time dog registration and an animal desexing rebate of $50 for cats and $100 for dogs was available to eligible pet owners.
"It is compulsory for dogs to be registered with Council from twelve weeks of age and within 14 days of owners moving to the Fraser Coast region, while dogs also need to be desexed before 22 weeks of age," he said.
"The registration fees collected contribute to the cost of Council's animal management operations, including compliance inspections, dog attack investigations, running animal pounds and the adoption centre, fenced off-leash areas, and responsible pet care programs.
"By registering dogs and ensuring they are microchipped, pet owners play a pivotal role in reducing the number of animals that end up at the pound and aiding Council in reuniting lost pets with their owners.
"The event also offers valuable insights and resources for maintaining happy and healthy relationships with our four-legged companions. Don't miss out on this wag-tastic event that brings the community together to celebrate our furry friends and responsible pet ownership."
For more information about responsible pet ownership and the services provided by the Fraser Coast Council, please visit https://www.frasercoast.qld.gov.au/animals-and-pets