WetSide reopens with Aqua Ninja price plunge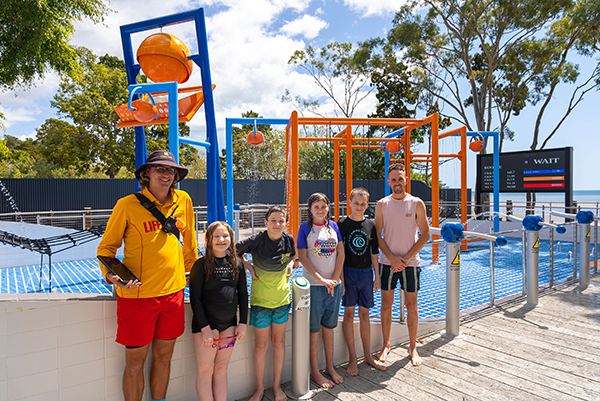 Fraser Coast's award-winning water park, WetSide, has reopened for the 2023/24 season today with reduced prices for the Aqua Ninja adventure course.

Cr Daniel Sanderson said WetSide had almost 120,000 visits from residents and tourists in the 2022/23 season, with the Christmas-New Year week the busiest week since the facility opened 13 years ago.

"WetSide is a great place to keep cool and have fun with something for everyone, including waterslides, a water play arena, TotSide for under 5s play as well as the new Aqua Ninja course that is the first of its kind in Australia," he said.

"It's particularly popular during school holidays when all the attractions are open seven days a week, so we're delighted WetSide can reopen this week ahead of the September school holidays."

Cr Sanderson said the Aqua Ninja adventure course had been a hit since it opened in November 2022, with more than 6000 course runs in its first season.

"The Aqua Ninja course features a series of nine different challenges that participants can tackle while racing the clock in a splash-filled arena with water jets, cannons and dumpers," he said.

"Council has listened to feedback and changed the pricing to offer three Aqua Ninja runs for $5, which is better value for money than a single run for $5 and three for $12 as it was initially.

"Aqua Ninja will operate from 10am to 2pm on weekends during school terms and 10am to 2pm seven days a week during school holidays, in line with when there is most demand."

Cr Sanderson said the waterslides were also popular with more than 14,200 tickets sold in 2022/23, while WetSide regularly received rave reviews on tourism websites.

"WetSide has taken out multiple awards through TripAdvisor in recent years and has been voted number one in the Wotif Top 10 Amusement Parks and Water Parks in Australia," he said.

Cr Sanderson said Council also operated SplashSide, a free all-abilities playground and water play area in Maryborough's Anzac Park that is open seven days a week.
"SplashSide includes a range of interactive water features and all-inclusive play equipment with nearby facilities such as shelters, barbecues and toilets," he said.
"Council's vision is to build better communities together by creating connected communities through our places, spaces and people, and facilities like WetSide and SplashSide help achieve that."
More information about WetSide is available at www.frasercoast.qld.gov.au/wetside-water-park with information about SplashSide available at https://www.frasercoast.qld.gov.au/splashside

The Aqua Ninja adventure course at WetSide was developed with the assistance of a $1.3 million grant through the Australian Government's Local Roads and Community Infrastructure Program.

The SplashSide Water Play and All Abilities Playground was developed with the assistance of a $3 million grant through the State Government's COVID Works for Queensland program.